QM-X4
QM-X4
The QM-X4 is a tabletop edger that expands your in-house lens finishing abilities by processing lenses with complex shapes, shelving, milling, and drilling. It's a robust edger, compact and user-friendly package that's backed by the industry-leading engineering and service teams at National Optronics and DAC Technologies.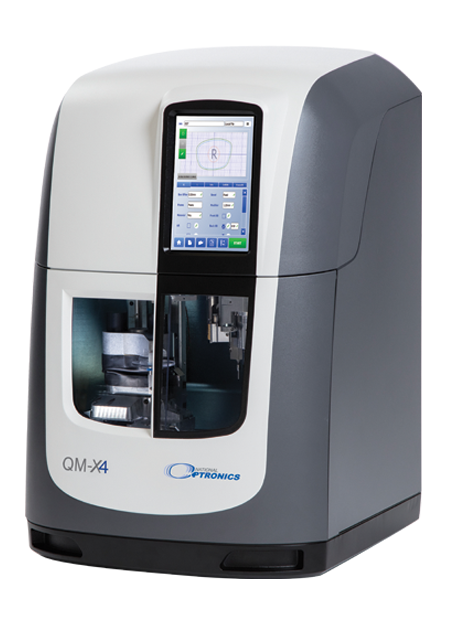 ---
FEATURING 4 MAJOR ENHANCEMENTS
1.FASTER PROCESSING
Integrated diamond blade design of the main tool reduces need for frequent blade changes
Software enhancements related to toolpath algorithms allow improved cycle times and processing
2. IMPROVED SURFACE FINISH QUALITY
High-luster finish on polished lenses
3. MACHINE RELIABILITY
Redesigned 4th-axis spindle for drilling, milling, and shelving improves reliability
Added protection to the electrical cabling eliminates wear
Internal covers on major mechanical components provide durability and dust protection
4. SAFETY FEATURES
Improved safety interlock system from mechanical switches to magnetic switches improve reliability, performance and operator safety
Green Operation
Environmentally friendly dry edging saves water and makes lens debris clean-up easy.
Innovative Tooling
A fixed dual diamond blade design eliminates the need to frequently change blades and improves productivity and lens edge quality.
Remote Diagnostics
An easy-to-use remote diagnostics system provides fastest response times for immediate technical support and current software updates.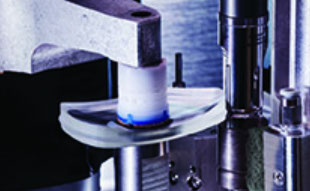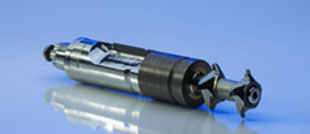 ---
Additional Features
Small footprint saves valuable counter space.
Easy touch-screen operation with user-friendly interface.
Inherently low torque cutting process minimizes risk of lens slippage.
Service friendly: all components are easily accessible.
Options
Lens shelving at various depths as well as in partial areas around the lens for easy processing of complex finishing jobs, e.g. on fashionable sports frames.
Variable angle drilling provides better cosmetics and easier mounting for a variety of base curves and prescriptions.
Frame editor software allows editing existing trace files or creating new complex designs quickly and efficiently.
Cabinet: 32″w x 28.8″d x 34.3″h
Communications
VCA/DCS compatible
Stand alone
Working Range
Front base curves: up to 10 dpt
Minimum finishing B size with standard clamping assembly: 21 mm rimless; 23- mm bevel
Lens diameter: max. 85 mm (effective)
Materials: all organic lens materials; i.e. CR-39;
Hi-Index; Polycarbonate; Trivex
Facilities
Energy requirements:
100-240V, 50-60Hz
1 phase, 350 Watts
Dimensions (wxdxh):
21 x 22 x 32 inches
521 x 559 x 821 mm
Weight: 180 lb