Dimension Tracer

• Unmatched tracing versatility
• Shape morphing
• Easy to use touch screen
• Advanced 3D capabilities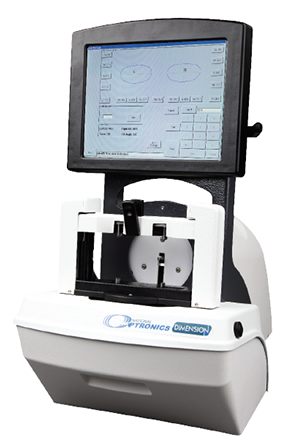 ---
ADVANCED TRACING OF ALL FRAME STYLES
High-Wrap Technology
Unique rotating frame table automatically adjusts to accommodate high-wrap frames. The intelligent software calculates necessary rotation for precise trace data.
Easy to Use Touch Screen
Integrated, smart software provides directional assistance. Access on-screen operations, maintenance and parts manuals with the touch of a button.
Shape Morphing
Modify traced lens shapes in all dimensions to create custom designs with shape editing tools.
Auto-Trace Error Detection
Automatically detects tracing errors and repeats tracing cycle without operator intervention. When interference or disruption occurs, the stylus automatically resets itself and completes the tracing.
Delicate Frame Tracing
Reduced tracing pressure on lightweight, flexible and sharp angular frames with auto-adjust stylus pressure.
Full 3D Trace Data
Capture complete 3D data on frames and lenses for optimized lens size and bevel placement.
Improve Yields and First Fit Rate
Rotating frame table technology minimizes the need for difficult compensations and eliminates unnecessary software calculations – providing improved accuracy and yields.
Lens Curve Optimization
Calculates optimum lens curve to match traced frame curve, which can be transmitted to the host interface system.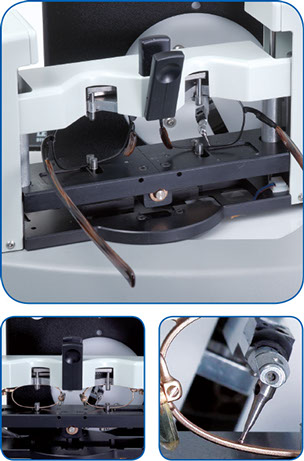 Breakthrough technology that sets the industry standard for tracers. Difficult tracings, including all frame curvatures and styles, are simplified and automatic with a touch of the screen. The Dimension is backed by the industry's most reliable service and support team.
---
Additional Features
Internal memory stores frame shapes
Accessory kit includes calibration device and
pattern/lens holder
Front storage drawer for accessories
One year parts and labor warranty
Range
Options
Communications
OMA / VCA compatible
Stand alone
Facilities
Power: 100-240 VAC, 50-60Hz
Height: 21.6″ (55.0 cm)
Depth: 17.4″ (44.1 cm)
Width: 11.7″ (29.7 cm)
Weight: 19.9 lbs (9.0 kg)